---
About Us
Mark is a US Army Veteran and has called Albuquerque home since 1997. He earned degrees at Albuquerque Bible College, and Faith Evangelical Seminary before attending the Shepherd's School at Cross Christian Fellowship. He has felt a calling to start a church along Route 66, in Albuquerque to reach others for Christ.
Mark has had struggles with addictions, drugs, alcohol and other things, in the past. He has recovered from them, with Christ and has a desire to help others with them as well. He has a desire to setup a recovery home in Albuquerque, or nearby, to help others in the recovery process as well as help them gain some job skills and learn to have personal interactions with others.
Mark grew up in traditional churches. He did not find the true meaning of having a Relationship with Jesus. At the age of 31, after hearing a Pastor talk about this Relationship, he rededicated his life to Jesus and started on a path for ministry.
Mark has been married to his wife Rebecca since 2005. Together they have four boys between them. They minister together to help others grow in their relationships with their spouses, children and family.
In his free time, Mark likes to ride motorcycles and build things.
---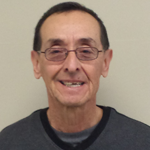 Michael is a native New Mexican and has lived in Albuquerque all his life. He gave his life to Jesus at the 1997 Billy and Franklin Graham crusades here in Albuquerque. In 2002 he successfully completed The School of Ministry at Calvary of Albuquerque. In 2013 he received a Certificate of Completion in a two year Shephard School program from Cross Christian Fellowship Bible School.
Michael is currently associate pastor at Cross Christian Fellowship Route 66. Michael and Pastor Mark meet at The Shephard School and have both been in ministry together since. Michael and Elizabeth met in 2006 and have been married since 2010. Michael has one daughter and Lizz has three sons and between them both they have twelve grandchildren. Michael and Lizz both desire to serve the Lord in whatever capacity He is leading.
In his free time Michael practices the guitar and would someday like to participate in the worship team. However, he says at his rate of learning it will probably be more likely, when he is in heaven, before he is ready to play. When not practicing the guitar or reading the Bible, Michael enjoys reading about the heroes of the faith, those whose lives that were totally given to the ministry of Jesus Christ.
---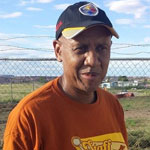 My name is Pastor John Hollins; I'm an assistant Pastor with Pastor Mark Grothe. I must say that all the good that has happened in my life is because of Jesus.
I was born in San Francisco, California in 1961. At the age of 5 or 6 years old, my family moved to San Jose, California. In 1978, while in in the 10th grade, we moved to Bonham Texas. In 1980 once I graduated from Bonham High School, I joined the United States Marine Corps. In 1982 or 1983, a Marine friend, Corporal John English, told me about Jesus and Salvation. I informed him that I believed in God and I also believed that I was going to Heaven. He informed me that if you have not accepted Jesus as Lord and Savior you're not going to Heaven. He also showed me through scripture what I must do to be born again, yes to become a Christian and go to Heaven. As time went by, I did ask Jesus into my life and to be my Lord and Savior.
After that, I went back into drinking, chasing women and living a life not pleasing to God. In 1990, while in Desert Storm and Desert Shield, I re-dedicated my life to Jesus. Once I returned to the United States, I attended Bible studies and Sunday worship services on a regular basis. I got married on the September 29, 1991. Once I retired from the Marine Corps, in March of 2001, I prayed asking Jesus to show me where He wanted us to go. Our family moved from Miami Florida to Laguna-Acoma New Mexico. With God's grace and sovereignty I became a Marine JROTC instructor at the Laguna-Acoma High School.
In 2010, I prayed, wanting to make sure that I was going to be with Jesus Christ. I ask Jesus into my life to be my Lord and Savior. Without a doubt I know I am born again and once I pass away (die) I will be with my Lord Jesus in Heaven. Through the years I see how wonderful and loving my Lord Jesus is. There is nothing greater than to be born again, yes to be a Christian and to have a meaningful and obedient relationship with our Lord Jesus Christ.
---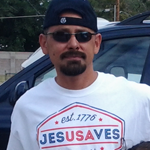 My name is Guillermo (Joshua) Avila. Growing up, my mom took me to church but it meant little to me. As I grew older I started to understand why we went to church.
I believed in God but I did not understand Jesus or the Bible or Israel. I decided I would live my life my way. I accepted Jesus and confessed my sins, so I'm good. I thought of myself as a good person and not a sinner. Looking back as the years flew by I started to see a sinner, and I realized that if I truly love my Lord and Savior I had to change. I wanted to change but nothing was happening. I was raised in the church, but we went to a lot of them, I just knew something was wrong. I learned the basics and I had a Bible that I read sometimes, but I only prayed when things went wrong. I thought prayer was like magic. I want something so I prayed. Prayer is a connection to the creator of the universe. Not praying is like not eating. No wonder my life was a mess. I was surviving on crumbs. My spirit and soul were longing for a connection to God and I had access to him at any given time.
One of the things I struggled with was sin. I could not admit I was a bad person. And even though I knew the world is against God, I loved it anyway. I was good in the world's eyes but not Gods. God loves us but he is a perfect Holy God. Light cannot dwell with darkness even if it is just a tiny bit of darkness. Sin separates us from God no matter how much good you do.
Jesus died for this reason. Through his blood we can meet and talk to God the Father. Through his blood we are a new creation. The worst times in my life were when I took my eyes off of Jesus. Like a child I'm learning to obey my father and more importantly trust him. I look around and see a world that desperately needs Jesus.
---