---
About Us
Mark is a US Army Veteran and has called Albuquerque home since 1997. He earned degrees at Albuquerque Bible College, and Faith Evangelical Seminary before attending the Shepherd's School at Cross Christian Fellowship. He has felt a calling to start a church along Route 66, in Albuquerque to reach others for Christ.
Mark has had struggles with addictions, drugs, alcohol and other things, in the past. He has recovered from them, with Christ and has a desire to help others with them as well. He has a desire to setup a recovery home in Albuquerque, or nearby, to help others in the recovery process as well as help them gain some job skills and learn to have personal interactions with others.
Mark grew up in traditional churches. He did not find the true meaning of having a Relationship with Jesus. At the age of 31, after hearing a Pastor talk about this Relationship, he rededicated his life to Jesus and started on a path for ministry.
Mark has been married to his wife Rebecca since 2005. Together they have four boys between them. They minister together to help others grow in their relationships with their spouses, children and family.
In his free time, Mark likes to ride motorcycles and build things.
---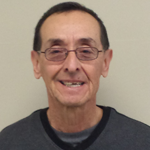 Michael is a native New Mexican and has lived in Albuquerque all his life. He gave his life to Jesus at the 1997 Billy and Franklin Graham crusades here in Albuquerque. In 2002 he successfully completed The School of Ministry at Calvary of Albuquerque. In 2013 he received a Certificate of Completion in a two year Shephard School program from Cross Christian Fellowship Bible School.
Michael is currently associate pastor at Cross Christian Fellowship Route 66. Michael and Pastor Mark meet at The Shephard School and have both been in ministry together since. Michael and Elizabeth met in 2006 and have been married since 2010. Michael has one daughter and Lizz has three sons and between them both they have twelve grandchildren. Michael and Lizz both desire to serve the Lord in whatever capacity He is leading.
In his free time Michael practices the guitar and would someday like to participate in the worship team. However, he says at his rate of learning it will probably be more likely, when he is in heaven, before he is ready to play. When not practicing the guitar or reading the Bible, Michael enjoys reading about the heroes of the faith, those whose lives that were totally given to the ministry of Jesus Christ.
---